---
Kaizen —
Brazilian jiu-jitsu
a Flavio Behring academy
Jiu-jitsu is a lifelong journey of personal improvement. At Kaizen, we are committed to teaching Brazilian jiu-jitsu as a way to develop and improve physical, mental, and social skills of our students.
The jiu-jitsu that we practice daily and that we teach to our students is in a state of perennial evolution and improvement. Our jiu-jitsu is the result of our never-ending personal research and relentless ambition to learn and understand. Nevertheless, our jiu-jitsu is deeply rooted in the inspiring teaching that we had the unique privilege to receive from Grand Master Flavio Behring. We are committed to following the remarkable example of Grand Master Flavio Behring and contributing to perpetuate his teaching.
---
Classes — where and when
Classes are held at:
Gymnasium
Boulevard des Invalides 214-216
1160 Auderghem
Belgium
We have a fantastic dojo of about 120 m2 .   The floor is entirely covered with tatamis and the walls are padded.   An ample on-site, covered parking is available.
Contact us now to book your trial class at Kaizen! The trial class is free of charge and not binding.
Kaizen is a nonprofit organization for the promotion of Brazilian jiu-jitsu. As a consequence, our membership fees are particularly affordable. Moreover, students are entitled to reduced fees. Contact us to get a quote.
At Kaizen, beginners are always welcome!
---
Meet the team
Visitors and guests
---
Meaning and significance of the word "Kaizen"
Kaizen (literally "change for better") is the Japanese term for "improvement". The term is associated with a business philosophy that demands that all employees of a company are committed to the continuous improvement of organization, processes, services, products, etc.
We chose the name Kaizen because improvement is our goal. Our mission is to teach Brazilian jiu-jitsu as a way to develop and improve physical, mental, and social skills. We are committed to continuously and indefinitely improving our jiu-jitsu and our ability to teach it to our students. By the same token, we demand our students to embrace our philosophy and become active in pursuing their own personal improvement continuously.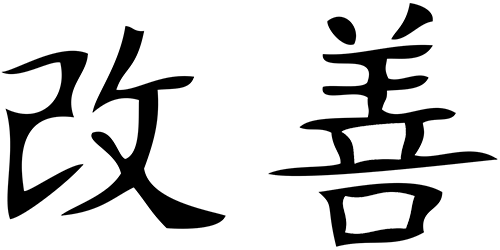 /kʌɪˈzɛn/
Please, enable JavaSript to see the map
---
Kaizen is affiliated with: